Daniele Suffritti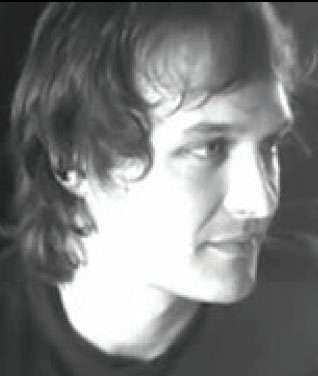 Born in Finale Emilia in 1972, he obtained a degree in Informatics Engineering at the University of Modena in 2003, with the thesis "Videomultiplexer for theatrical application", project that involved the University of Modena, Genoa and Academy of Fine Arts of Milan. The designed application will be used in 2003 to realize the production "Azione Simultanea" directed by Ezio Cuoghi.

In 1997 start his work on carrying out informatics applications to be used on artistic and musical performance and in 2001 starts working on the EyesWeb platform. In 2003 direct the technical project for the production "Azione Simultanea" and for the installations "Webclock", "Indeterminate time portrait", "Time in elastic suspension" by Ezio Cuoghi and hold the position of Professor of "Interactive multimedia systems" at the Academy of Fine Arts in Milan.

In 2004 take part at European workshop "Ecological Psychology" with the performance "Emotions as Emergent Properties" and organize a workshop on Eyesweb platform at musical festival Distorsonie in Bologna and become a member of sta at the Academy of Fine Arts in Verona, with the position of Professor of "Multimedia Installations".
Luca Orlandi

 

I graduated in New Technologies for Art at Brera Academy of Fine Arts in Milan, where I also obtained a master's degree in Interactive and Performative Arts. My master's thesis work dealt with motion tracking, non-verbal communication and ipermedial arts.

My main professional interests include concept art, 3D modeling, rigging and compositing. 

My interest in computer graphics started in the '90s, while I attented secondary school (specialising in art subjects). At the beginning I worked with bi-dimensional design softwares, and then, after practice, I started to work in 3D and compositing. As most of the people who make art with computers, I am always studying new techniques and softwares in order to increase my knowledge and creative skills, as computer art is a world of unlimited possibilities.

I work as a c.g. artist and art director in the advertising and vfx industry. 

I am also currently teaching a course in 3D animation at Brera Academy of Fine Arts. I previously taught at University of Verona and worked as a teaching assistant at Brera and Verona Academies of Fine Arts.

 

Ezio Cuoghi

Born in Mantova in 1957, he obtained a degree in Direction with Luigi Squarzina at the University of Bologna in 1985, with a thesis, later published, on the figure of the nineteenth-century 'great actor'.
In 1981 he started his professional acting career working mainly with the Teatro Nuova Edizione from Bologna and taking part in various theatre, television and radio productions, in particular with the Biennale Teatro di Venezia and the RAI (Italian National Television Company).
In 1989 he went on to become an author and director, commencing a profitable collaboration with the Video Art Centre in Palazzo dei Diamanti, Ferrara. Productions such as 'La Notte' by Dino Campana and 'Les Fleurs du Mal' by Charles Baudelaire came to light during this collaboration.
From 1994 onwards he began research into performance and artistic dramaturgy, which links the language of Art and Science, working with various Italian universities. From this research works like 'L'Orizzonte degli Eventi'(regarding the concept of time) in collaboration with the Department of Physics at Ferrara University and 'L'Elica Flessibile' (on genetic engineering) working with several Molecular Biology and Genetic university departments were developed. Yet again, on the same line, he produced 'L'Ala dei Sensi' (on the theme of perception) with the help of the Video Art Centre in Ferrara and the Universities of Ferrara and Bologna and later, in 2003, 'Azione Simultanea' produced by ITeatri di Reggio Emilia in collaboration with l'Alterballetto', continuing his research on the concept of time.
From these works several publications have been made, dealing with the theme and theories in greater detail.
In 1999 he organized and produced one of the first Italian festivals on the use of new technologies in performing art, on behalf of the Regione Marche and the Comune di Macerata, entitled 'Internet City Works'.
While since 1995 he has held the post of Professor of Direction, initially at the Academy of Fine Arts in Macerata, and more recently at the Academy of Fine Arts in Milan. He is also a member of stat at the Academy of Fine Arts in Verona, holding the position of' Professor of 'Multimedial Installations'.

Daniele Paolin

Daniele Paolin was born in Padova in 1950. He majored in Scenography at the Academy of Fine Arts in Venice – Italy. He graduated in 1976 but began his work in the theater in 1971 with the Musicoteatro Company first as a Scenography Assistant and later promoted to Manager of Scenography Design. This lead to the creation and realization of numerous shows between 1971 and 1973. In 1975 he received a grant to study scenography at La Scala in Milan.
In 1976 he collaborated as Scenography Assistant with the E. A. Arena di Verona for the summer season. In 1978 and 1979 he co-founded La Bottega Veneziana s.r.l., a work-shop for the creation and realization of scenography. He managed La Bottega Veneziana until 1984 and realized approximately fifty scenography stages. All stages were commissioned by Italian and European theaters such as Il teatro alla Scala di Milano, La Fenice di Venezia, Il Filarmonico di Verona, Toulouse, and Liceu de Barcelona.
In 1984 he left La Bottega Veneziana and accepted the position of Assistant for stage effects and techniques at the summer operatic season at the E. A. Arena of Verona. In November of 1984 he was assigned Assistant for the Scenography Course at the Academy of Fine Arts in Venice.
In 1985 he collaborated with the Teatro La Fenice di Venezia as Manager of Scenography Design responsible for scenography of the operatic seasons. He held this position till 1996 when the theater was destroyed by fire. During this time he produced more the fifty shows.
In 1997 realized "Lucia di Lammermoor" by G. Donizetti for the Staatsopera Rousse (Bulgaria), and began collaborating with the EuroStage of Amsterdam where he designed stages for "Rigoletto" by Giuseppe Verdi for the autumn 1997 season at the Staatsopera Rousse (Bulgaria).
In November 1997 he was named Professor of Scenography 2 at the Academy of Fine Arts of Brera in Milano where he continues to teach to this day. He sign the scenes of a new preparation of the Nabucco work represented in front of the historical Kaiserdom (Cathedral of the Kaiser) of the city of Speyer (Germany); for the summer festival KyrburgOpernfestspiele of Kirn/Nahe (Germany) design the stage of the opera: Carmen of Bizet and Rigoletto of Verdi G. In 2001 he has cared the setting up of a great historical display, "La dama castellana" with Carla Fracci, for Conegliano – Treviso – Italy.
In 2000, 2001, 2002, he has cared the planning and the staging of the works of the open-air festival "Klassik" in Monschau town such as "Rigoletto" and "Carmen" (2002) and for the KyrburgOpernfestspiele of Kirn/Nahe festival, "Un ballo in maschera" and "Carmen" in 2000, Nabucco and Trovatore in 2002.
In 2003 he design the stage of the multimedia performance Azione simultanea by Ezio Cuoghi and Giorgio Celli in the Cavallerizza Theater of Reggio Emilia.
In 2004 he design the stage of Aida open-air for Star Entertainment GmbH in Germany

Carlo Ansaloni

1971 Graduated in Phisics University of Ferrara
1971-1981 Teacher in Phisics at the Techical Institute "Carpeggiani" in Ferrara
1973 Partecipation at Emilia Romagna Seminar for VideoTape Recorder use
1973-1994 Responsible for video production at "Centrovideoarte" of the Gallery of Modern Art of Ferrara
1994-1997 Director of "Centrovideoarte"
1973-2007 Coordinator and technical curator for Fabrizio Plessi's Art projects
1992-2007 Installation curator for Ezio Cuoghi projects
1981-1997 Visiting professor at the New York University for Video Art Summer stages, in Venice
1999-2001 As a teacher for Organization and Production of Media Art Event at the Accademia di Belle Arti of Macerata
2003-2007 As a teacher for Organization and Production of Media Art Event at the Accademia di Belle Arti "Brera" of Milano
1983-2007 Partecipation and realization of several Media Art project .